GIFT CARDS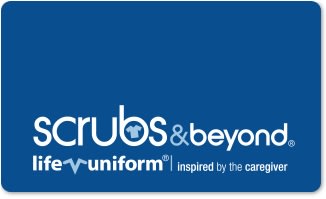 Choose an amount from $10 to $100
Gift Cards ship FREE
E-Gift Cards are sent immediately through e-mail
Redeemable both online and in-store
Enter your gift card or e-gift card number for the remaining balance.
if you have any issues, call our Customer Care department at 1-886-972-2849 24 hours a day/7 days a week.
Your gift card can be redeemed online at or at any of our Scrubs & Beyond or Life Uniform stores. To use your gift card online, simply enter your gift card number at checkout. The available balance will be applied toward your purchase. Any unused balance will remain on that card. To find a store near you, click Find a Store or call us at 1-888-255-2688.
Present your gift card at Scrubs & Beyond for the purchase of goods or services in the United States. This card cannot be redeemed for cash (except in those states that require redemption for cash), applied to previous purchases or replaced if lost or stolen. If found, please return this card to the merchant. By accepting and using this card, you agree to the terms and conditions of Scrubs & Beyond's Gift Card Use policy.
Gift cards purchased online are not available for use in stores until the following business day.
Lost or stolen cards will not be replaced. Scrubs may refuse to accept a card and to take action, including balance forfeiture, for fraud, abuse or violations of terms. Terms and conditions subject to change without notice.